Your Holiday Checklist, Don't forget a thing
Travelling to Montville is an exciting and fun adventure but it can turn into a trip of hassles and frustrations if you have overlooked even the smallest and slightest must-do preparation. Having a travel checklist before you go away can help you avoid a disappointing holiday.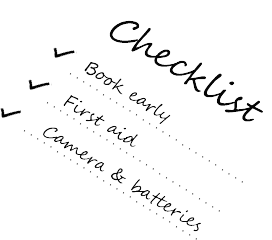 Book Montville accommodation early – Travelling two or three hours only to find out that the resort you've always wanted to go to is already booked can turn a supposedly happy trip into a disaster. Calling the resort and booking in advance can help you avoid such unfortunate circumstances. Booking early can help the staff of the resort to attend to your needs and any special requests before your arrival.
Bring first aid kit – Whether it's a quick day trip or a three day stay, it is best to bring a first aid kit with you as accidents happen when you least expect them. Pack plasters, small bandages and aspirin just in case something comes up. You can save time and money rather than going to the nearest pharmacy.
Camera and Batteries – Montville is filled with wonderful places to visit, such as the Kondalilla Falls National Park and Australia Zoo. If you fail to bring extra batteries or the camera's charger, you won't be able to take a snapshot of all these amazing spots to take home with you. Chargers for other electronic gadgets such as cell phones that you will bring should be included in your checklist.
Proper identification – Montville might be just an hour away from your place but it is still important to bring your ID and other proper identification documents. When you bump into a legal dispute, proper identification can help save you time and money.
Clothing and toiletries – When it comes to clothing, you don't have to bring several items. You should just bring garments that can be used in different looks. Also, consider the type of weather of the place you will be visiting. As for your footwear, bring casual shoes as well as sturdy walking shoes.
In regards to toiletries, pack all the essentials as it can be quite expensive buying it while you're on vacation. Some resorts even ask additional fees for extras. Bring with you toiletries you use every day. This includes toothbrush, tissues, hand sanitizer, toothpaste, shampoo, body wash, deodorant and sunscreen. Also bring an umbrella as the weather can be unpredictable.
Extra cash – When you are on a vacation it is important to have extra cash on you even you are in a budget as incidents of theft can happen. Keep some money in a different location other than your wallet.
Snacks and beverages – Any destination involves travel time and in most cases, it can be lengthy and make you go hungry. Instead of stopping over and spending money on fast food, pack plenty of snacks for every one included in the trip.
A trip to Montville can be an adventure of a life time if you have adequately prepared for it. Call Hunchy Hideawayon +61 7 5478 5470 and have your getaway booked early.